That's what Master 6 announced to my sister, his aunt, when she arrived for us to spend time grieving together. He was right. Our precious Mother had passed away the night before – totally unexpectedly. Cara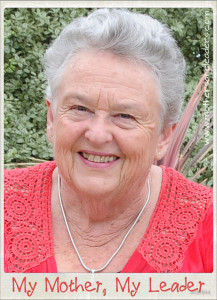 vaning with Dad in the Far North of Australia. 71 years young. Here one day and then gone.
How do you do life without someone who has always been there??
That first night, my creative spirit kicked in, probably because of the intensity of the pain. I was in uncharted waters and needed some way to express it.
"My Mother, My leader
I want her, I need her…"
The tears flowed. My blocked nose and deep sobs threatened to choke me. "I miss you, I want you, I need you, Mum!!"
Somewhere in that first night, before the morning light, Truth began to dawn. I didn't actually NEED my precious Mother. I wanted her so badly it hurt. I missed her in a way I had never before experienced. But I didn't NEED her.
Now my creative spirit was freed to pour out on paper.
Mum – my Mother, my Leader… this is for you. I wish I could have shared it with you here. Instead, I pray that others will share with us as we honour you and the way you lived your life to bless countless people, including us, your three daughters.
Most of all, I pray that these words would continually challenge us, and a whole generation of mothers, to follow your example and lead our children with the same excellence you did.
With more love and thanks than we could ever package.
Jenni (with Sue and Lynelle)
My mother, my leader
I watch her, I heed her.
Mum shows me the way
To live, love and pray
With kindness and care
She caresses my hair
And wipes away smudges
That someone else judges;
She sets a high standard
But is not heavy handed…
I watch her… I heed her
My mother, my leader.
She stretches a meal
And finds a good deal.
She opens our door
To both wealthy and poor;
Her welcome is warm
When folk come through a storm:
They bask in her peace
As she sets them at ease…
I watch her… I heed her
My mother, my leader.
Happily Mum works closely with Dad,
Dying to self but keeping a tad
Or her independent, fun ways
To brighten our days.
Separate but together,
I often wondered whether
I could ever become one
Like my Dad and my Mum…
I watch her… I heed her
My mother, my leader.
She's a mum who has ample
Of time, for example,
To sit down with us
When we're making a fuss
Or read a fun book
Before starting to cook
Or to pray by my bed
For the one I would wed…
I watch her… I heed her
My mother, my leader.
She made me aware
Of the value of care,
Not putting self first
But in Jesus immersed.
Some years were real tough
But her faith was enough:
She continued to run
And kept God number one…
Right now, I'm feeling bereft
Coz so recently for heaven she left
Oh, my mother, oh my leader
Oh, I miss her, oh I need her!
Amidst my tears, I heard the Lord
My spirit lifted, my heart it soared!
He said, "BECAUSE you watched, BECAUSE you heeded,
Now is YOUR time, Mum is less needed.
She gave you her best
Now it's her time to rest,
She taught you her all
Now she's heeded MY call."
On my knees, I then vowed
I will make my Mother proud:
I'll keep choosing the Lord's way
Then MY children all can say,
"I watch her, I heed her
My mother, my leader."
By Jenni Chacko
************
This post is a link-up to Essentially Jess and IBOT (I blog on Tuesdays).