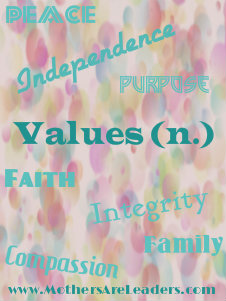 It's easy to feel totally overwhelmed as a Mother-Leader. (Aka motherwhelmed!) The physical and emotional demands can be exhausting. But there is something else that can make things feel a whole lot worse:
When the hole is round. And you're the peg, the square peg.
Many Mothers face this when they leave the corporate world to become a full time Mum. And countless others face it due to circumstances or choices.
It's as though your values, those things that you believe are important in the way you live and work, are square. And Motherhood is round. Internal turmoil starts when you find yourself living and leading in ways that conflict with your values.
Let me use Mrs J (c'est Moi) as an example.
"One of Mrs J's deep values is independence. She grew up overseas, went to boarding school during her primary years, lived away from home again in high school, studied away from home for university and travelled extensively whenever possible. Although she was from a close, loving family, independence was admired and encouraged. Her parents valued giving their children "roots and wings".
When Mrs J took on motherhood, she did it with all the enthusiasm and energy of instinctive maternalism. And although she LOVED being a Mother to her chickadees, a heaviness began to settle over her. Totally unaware of what was happening, she allowed her independent spirit, which until now had determined her priorities, to be stifled. Her square independence struggled painfully to fit within the roundness of motherhood."
You see, when the things that you are doing and the way you are behaving match your values, life is usually good! You're satisfied and fulfilled.  BUT when these don't align with your values… the square peg becomes dissatisfied, unfulfilled and unhappy! And maybe even depressed. 🙁

And this, dear Mother-Leaders, is why it is so important to slow down long enough to do these self-leadership activities, like identifying your values!
Your turn:
Below is a list of common values. Choose the ten words that reflect what you value most. Where words are similar, choose the one that best describes what you value. Or substitute other words if they better reflect your values.
Once you have ten words, reduce that to your top three to six values. (Remember, there is no right or wrong so don't stress over this!)
There! You've done it! You now know what your square peg is made of. So when there is a painful rubbing you can look closer and see what's causing the problem. 🙂 You won't necessarily be able to change the shape of the hole, but you CAN do some sanding on a sharp square corner and find a more comfortable compromise. (And remember, you won't be in this stage of motherhood forever!)
Accountability  
Accuracy
Achievement
Adventurousness
Altruism
Ambition
Assertiveness
Balance
Being the best
Belonging
Boldness
Calmness
Carefulness
Challenge
Cheerfulness
Clear-mindedness
Commitment
Community
Compassion
Competitiveness
Consistency
Contentment
Continuous Improvement
Contribution
Control
Cooperation
Correctness
Courtesy
Creativity
Curiosity
Decisiveness
Democraticness
Dependability
Determination
Devoutness
Diligence
Discipline
Discretion
Diversity
Dynamism

Economy
Effectiveness
Efficiency
Elegance
Empathy
Enjoyment
Enthusiasm
Equality
Excellence
Excitement
Expertise
Exploration
Expressiveness
Fairness
Faith
Family-orientedness
Fidelity
Fitness
Fluency
Focus
Freedom
Frugality
Fun
Generosity
Goodness
Grace
Growth
Happiness
Hard Work
Health
Helping Society
Holiness
Honesty
Honor
Humility
Independence
Ingenuity
Inner Harmony
Inquisitiveness
Insightfulness
Integrity

Intelligence
Intellectual Status
Intuition
Joy
Justice
Leadership
Legacy
Love
Loyalty
Making a difference
Mastery
Merit
Obedience
Openness
Order
Originality
Patriotism
Peace
Perfection
Piety
Positivity
Power
Practicality
Preparedness
Professionalism
Prudence
Purpose
Quality-orientation
Reliability
Resourcefulness
Restraint
Results-oriented
Rigor
Security
Self-actualization
Self-control
Selflessness
Self-reliance
Sensitivity
Serenity
Service

Shrewdness
Simplicity
Soundness
Speed
Spontaneity
Stability
Strategic
Strength
Structure
Success
Support
Teamwork
Temperance
Thankfulness
Thoroughness
Thoughtfulness
Timeliness
Tolerance
Traditionalism
Trustworthiness
Truth-seeking
Understanding
Uniqueness
Unity
Usefulness
Vision
Vitality
Wisdom


NB. Your values are very much linked to your vision (see yesterday's post). For example, if simplicity is one of your values your vision is unlikely to involve collecting the biggest teapot set in the world!
Ok, tell us in the comments, what have you identified as your top values?
See you tomorrow!'
Jenni xxxx