Not long after Child #2 was born I remember reading an article about a couple who had about 14 kids – all biological and all from the same parents! Struggling to maintain breastfeeding through mastitis and attachment challenges, while trying to keep the vivacious Miss 2 ½ occupied, I was totally awestruck as I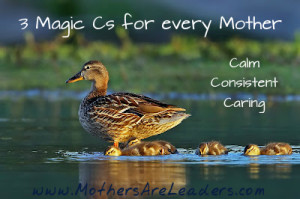 read about this incredible Mom Mum. How on earth would you keep any semblance of ordered, loving family?!
Mrs Incredible then shared her magic 3 Cs… and now, 12 years later, they are still in the forefront of my Mother-Leader thinking.
Calm.Consistent.Caring.
So simple.
So balanced.
So easy to recall in the heat of a moment.
So… true.
These magic Cs are like the legs of a three-legged stool – take any one of them away and it* will all fall over 🙂  (* "it" being that tenuous state of family balance and peace that we Mother-Leaders seem to be in permanent pursuit of!)
What are your 'magic' reminders in the heat of the moment? Or, like me, would you like to borrow Mrs Incredible's? Talk to me in the comments below – I will definitely reply 🙂
************
This post is a link-up to Essentially Jess and IBOT (I blog on Tuesdays).