Imagine if you could access the source of your actions, your attitudes and your beliefs?
 What if I told you that you could have unlimited access to this place? Interested??
One of the first things you learn as the mother of a beautiful, new baby is that you do not have control over this little person! However, there IS one thing you have control over. Always. In fact it's probably the only thing that you can always have control over as a Mother-Leader…
 Your thoughts. Your self-talk.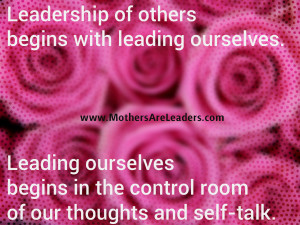 As we go about our daily lives as mothers we are constantly thinking about and interpreting the situations we find ourselves and our children in. It's as though we have an internal voice inside our head that determines how we perceive every situation. Psychologists call this inner voice 'self-talk', and it includes our conscious thoughts as well as our unconscious assumptions or beliefs. Our self-talk is something we can and should learn to recognise and monitor.
So, when all else seems out of control in mothersphere, you can and should still control your THOUGHTS.
The importance of this silent self-talk (or thoughts) is the overt things that flow from it: your self-esteem, your attitude to others, your daily actions and your view of life. All of this stems back to your internal dialogue!!
My journey as a Mother-Leader has included significant times with post-natal depression. One of the hidden blessings in this was to send time with a brilliant psychologist. She focused on CBT – Cognitive Behavioural Therapy. Basically, CBT helps the person to challenge and overcome automatic beliefs, and use practical strategies to change or modify their behaviour. I have learned at a heart level something that I had previously only known in my head: it really, truly, genuinely is possible to have control over your thoughts.
My breakthrough started the day I caught myself talking to myself! I went to Helene's office and told her I knew I was on the road to recovery: during the week I had learned to HEAR what I was saying to myself (ie my self-talk)!
For some people, positive self-talk is natural. For others of us, it is easy to spiral into negative self-talk when we feel overwhelmed (aka motherwhelmed). If you are inclined to negative self-talk/thoughts I would highly recommend seeing a good Cognitive Behaviour Therapist. Because this is not just about you: as a Mother (or any type of leader) your negative thoughts will have an impact on those you lead.
Leadership of others begins with leading ourselves. Leading ourselves begins in the control room of our thoughts and self-talk. <<Tweet this>>
How do YOU keep your self-talk positive and under control?
Blessings as you lead your little tribe.
Jenni xx
 You can SIGN UP HERE for a Free Report, about restoring peace and building connectedness with your children 🙂 And I promise not to bombard your inbox, coz I hate it when that happens!
 * * * * * * * * * * * * * * * * * * * * *
This post is a link-up to Essentially Jess and IBOT (I blog on Tuesdays).