The GPS is an everyday item now but I clearly remember when it was a new device. Coming home from a long weekend we decided to try out the 'shortest route' option. I carefully entered our home address and we set out.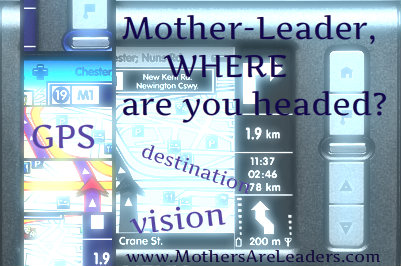 Well! I still don't know where we were that night… somewhere on dirt roads in the middle of the bush! A cracking thunderstorm set in as we dodged wombats on the road and falling tree branches. In the relentless downpour I recall praying that the GPS satellites didn't quit – because we really had no idea where we were so not even a map would have helped!
A GPS will only work for you if you can enter the destination. Once the destination is established, the GPS keeps guiding you, regardless of what circumstances you find yourself driving through. If you get off track, it's the GPS that recalibrates and still gets you to the same destination, albeit by a different route. Clever, huh?
Do you ever feel like you need a GPS to recalibrate for you as a Mother-Leader? You know, on those days when you are totally overwhelmed with all the different demands (and demand-ers). Dodging another spilt drink and tripping over fallen Lego. Honestly, there are days I just want to hide under the bedcovers and not respond, pretending that I'm not here and that the relentless "Mum! Mama! Mum! Mama!" isn't for me.
I have a mothering "GPS" that I often refer to amidst the chaos. Actually, it's a statement. But it works the same: I have entered the destination and it helps guide me through the temporary chaos and gets me back on track towards the destination.
Would you like to borrow it?! Even better than borrowing mine, would you like to develop one for yourself?
In common leadership language it is called "Vision". No corporate leader would be taken seriously if s/he couldn't articulate the company vision. A vision statement says where you see yourself some years from now; it's about your destination. It inspires you to give your best. It shapes your understanding of why you are still working here.
So do you want to know what my GPS is? (I call it my "Guarding Personal Sanity" Statement – sounds much more Mother-Leaderish than the lofty "Vision Statement".)  
I'm into keeping things as simple as possible, so:
My GPS statement is THREE whole WORDS: "Training Godly adults"
Profound? Nah.
Future oriented? Definitely!
Inspires me? You bet!
And having a crystal clear vision for what I'm trying to do as a Mother-Leader really does Guard my Personal Sanity! My vision helps me decide which battles are worth fighting and when to let something slide. It helps me put mundane tasks (aka cleaning and ironing) into perspective, affirming why I continue to do them. And it helps me to decide on priorities for myself and my chickadees each day.
Having a clear vision lets me look past the immediate situation and answer the bigger "WHY". I don't get lost in endless baskets of washing and tiresome toddler tantrums because I know that my purpose is bigger than either of these things: I am actually training Godly adults.
If you already have a vision statement as a Mother-Leader, would you share it with us in the comments? Examples will help us all!
And if you don't yet have one, think about what you want your children to carry with them from having you as their Mother-Leader. Where do you want to direct them in life? Remember, there is no right or wrong – this is intensely personal and individual. And if you're happy to share your thoughts in the comments, you might even get some helpful feedback from our community. 🙂
Blessings
Jenni xxxx