"Why is it that not even the simplest job around here can be done properly?"
Every mother knows the feeling. Master Six is asked to empty the dishwasher and then you find wet dishes in the drawer. Miss Teen is asked to clean up the kitchen but when she is 'finished' there are still unwiped benches and the floor isn't swept. Add in your own tiredness and the situation can be volatile…
At this point you can:
Yell and rant about the poor standard of work and how you must be failing as a mother
Hold your tongue, grit your teeth and do it yourself – again! Or
Act like a leader – take a deep breath, pour yourself a cuppa and learn how to delegate more effectively.
When I think about delegating chores to the kids, I tend to think of getting them to do some of the chores I find most tiresome… problem is, just getting them to do the work isn't delegation. At best, this is called "helping Mum"; at worst, it is just me dumping my responsibilities onto the kids!
True delegation is a process that takes place over time. Bill Zipp brilliantly summarises the process into these five steps: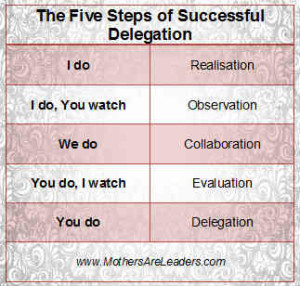 Realisation is where it must start: realising what tasks you are doing that someone else could do instead of you. (And don't tell me that you need to do it all! I know all about that invisible cloak you are wearing – but being a SuperMother does NOT mean you need to do everything yourself!)
Before you ask anyone to do anything, still at the "I do" stage, write down all the tasks that "I do" but that someone else could be doing. Now think about who you would like to do this task, and write a name beside each one.
Well done 🙂 now onto observation. Your kids will have seen you doing the same things around the house a gazillion times (coz part of the job description for being a Mother is that you do the same tasks every single day and sometimes multiple times each day!). They have SEEN you do it but may never have actually OBSERVED how you do it. To help them observe properly, tell them that you will ask five questions about the task when it is finished. Depending on their age/stage, you could also get them to ask you questions as you work or when you finish. (This is the hardest step for me, simply because I want to get them involved ASAP.)
Collaboration is the part of the process I am best at – I love doing things with my kids, despite the messy chaos! Four or six hands in the cookie mixture always makes them taste better! Seriously, this is the stage when you can really impart a sense of fun AND achievement.
Now the game changes – "you do and I watch". Without doing the evaluation, you are really just throwing them in the deep end. Corrections here are usually small but can make a significant difference. True story. Our older two children have a night each during the week when they cook dinner. Although they have seen me cooking countless times, and we have often cooked together, it is not until they are actually doing the hands on cooking themselves that we discover some missing knowledge! Little things can make a big difference – like mixing cornflour into cool water rather than boiling water, or heating the wok before you add the stir fry…
Now you are ready for it – delegation. Without the previous steps you would be just dumping jobs on the kids. Instead, you are now delegating like a true leader! And that means two things:
you are setting your children up for success, and
you have just found yourself a little more time for those Mother-Leader tasks that no-one else could do for you! Tasks like…delegating the next job 🙂
Tell me in the comments, what part of this process for delegating chores do you do well? What needs improving?
************
This post is a link-up to Essentially Jess and IBOT (I blog on Tuesdays).