BE IT.
Yep, that's it: BE the atmosphere that you want in your family!
The culture, or atmosphere, of ANY organization begins with the leader:
A CEO who wants a culture of generosity cannot model stinginess.
A leader who demands a culture of careful spending will not achieve it if she lavishes her office with expensive fittings.
And a Mother Mum Mom who wants a peaceful, happy family must not be angry and stressed out all the time.
Organizational culture will always match the leader's personal culture.
I remember when we were in early stages of starting our non-profit venture, we were determined to create genuine, two-way partnerships with all our stakeholders, including donors and volunteers. So we modeled it! With the office in our home, no-one came in without being offered a drink and snack; volunteers joined us for lunch that we  provided; prayers were prayed for one another; birthdays were acknowledged and milestones were celebrated. And I'm pleased to report that you will still encounter this same culture in any of our centers, anywhere in the world! Why? Because we as leaders choose to still live and BE this culture – genuine, two-way partnership in action.
How did this morning go in your home? (Ouch!!) Energetic but peaceful? Loving? Kind words spoken?  Hmmm, mine neither!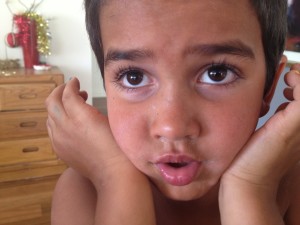 We had a later than usual night yesterday celebrating Miss 15's birthday. Being an exceptionally hot night, Miss 7 and Master 6 both ended up in our room during the night… plus I stayed up too late working. 🙁 So this morning Miss 7 and Master 6 were at it! And while I didn't lower myself to fighting over which seat I was having at the breakfast table so I was as far away from them as possible, I didn't model energetic peacefulness either…
But, the beauty with being a Mother-Leader is that there will always be an opportunity to redeem yourself. 🙂 So I'm doing mental and emotional push-ups right now, as I write – setting a better atmosphere for the afternoon… BEING the atmosphere so I can lead my team into it.
Hang in there, precious Mother-Leaders, we can do it! And we can do it well! Comment below and tell us about you and your kids…what are your pressure times? When do you need to BE the atmosphere and lead your family into it?